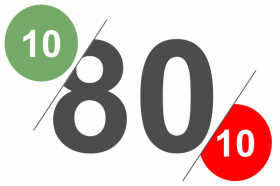 The "Pareto Principle" is well-known..  It's the "80-20 Rule".  But how many have heard of the "10-80-10 Rule"?
10-80-10 was a source of much amusement when I was working at an Investment Bank in the mid-Eighties.
Our version went something like this:
In any company, 10 percent of the people do the work; 80 percent of the people do nothing; the last 10 percent stop the first 10 percent from finishing anything.
And in some companies, I'm sure it's still true today.