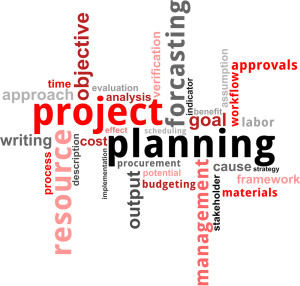 Note: This post was originally published (by me) on March 19 2014 on Linkedin.  You can navigate to the original post by clicking here.
So what exactly is Project Planning? From my point of view:
"If You Fail to Plan, You Plan to Fail"
A lot of people learn about creating plans when they are mentored, self-study and/or take Project Management classes or courses. It is an essential element in any Project Management effort and without planning, most projects fail.
I have tried to get to grips with the art of planning for a very long time and it still kicks me in the pants when I least expect it – and for me, planning is an art – and not a science. You can give somebody a laptop and a copy of Microsoft Project – it doesn't make them a Project Manager or a great planner. Skillful planning requires understanding, practice, persistence and time.
Everyone who has worked with me work knows that I am passionate about having a plan, but few understand what I think is the most important thing about the plan. It isn't the Microsoft Project 'Tracking Gantt' or "Missed Milestones" report that is important. Far from it.
It also isn't the scope, cost, resource or risk/quality profile although each of those aspects are critically important.
Realistically speaking, the plan is never fixed, it constantly moves, morphs and develops. It changes every day as understanding deepens and it requires almost constant attention if you want to get it even close to "right".
The real value in any plan is when the people involved in the project sit around a table and understand where exactly they fit into that plan.
When people in the team appreciate the sequencing, what is expected of them and where the dependencies are, the real power of the plan is exposed.
Without this realization, it's just another piece of paper.
Photos: Courtesy of Google Images